At their 5th Sierra Madre Kiwanis Annual Boot Skootin Chili Cook-Off is May 9, 2015.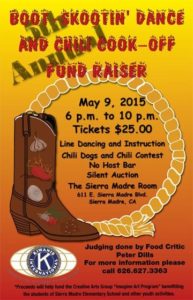 The Sierra Madre Kiwanis Club welcomed 'Members For A Day' to an evening of fun, food, and fundraising.
 Thanks to YOU, the Sierra Madre Kiwanis Annual Boot Skootin Chili Cook-Off a Great Success!
Thank you to all the attendees and Sierra Madre Kiwanis members for making this year's Boot Scooting Chili Cook Off the best year yet! And the winners are:
Critics Choice:
1st Place Glenn and Amy Putnam
2nd Place. Vokouhi Unell Rotary
People's Choice:
1st place Vokouhi Unell
2nd place Steve Heydorf
Below are photos of the Boot Scootin Dance Off
A special Thank You to Joe Pergola, creator of the Boot Scooting Chili Cook-Off, for his work and diligence to the details. To the many members who help plan and deliver the most fun event in Sierra Madre Thank You!
Below are photos of previous Boot Skootin Dance & Chili Cook-Off
Chaired by Kiwanian (and creator of the event) Joe Pergola, attendees adorned their favorite western attire and came ready to 'throw down'. There were five courageous entrants to the cook-off and 'spicy' seemed to be the word of the day.
Renowned Food Critic Peter Dills returns for the fifth consecutive year as the Celebrity Judge. Music and Line Dancing instruction are provided. Hats off to Shirley Anhalt and Marta Capoccia, who were two of the best fancy dancing ladies of the evening in 2014.
There were two categories for the contestants, the first being the Celebrity Judging by Peter Dills and the second was The People's Choice Award where attendees picked the winners.
In 2014, first-time entrants Maria and Brian Decker won 1st Place in both categories with Brian's Special Recipe. Second Place in the Celebrity Category went to Amy Putnam for her Railroad Chili. Second place for the People's Choice Award was given to Fred Thomas.
Now is your chance to enter the chili cook-off. Let's taste your best chili receipt and see if everyone agrees your chili is the best in town!
Funds from the event will go to the ImagineArt program of Creative Arts for children at Sierra Madre Elementary School.