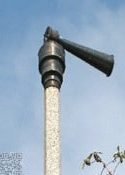 ON THE AIR!
Tune to 1630-AM…listen on any AM radio!
We"re on the air 24/7, keeping you informed about your community.
This new local radio station will broadcast the latest information about community happenings in Sierra Madre. The Art Fair, Wistaria Day, a Pancake Breakfast, Huck Finn Day, holiday festivities, service club events, senior activities….you'll hear all about them at 1630-AM.
AND…in an emergency, 1630-AM will broadcast important public safety information, direct from Sierra Madre's Emergency Operations Center. If there's a fire, flood, earthquake or other emergency, tune to 1630-AM to hear up-to-the-minute public safety bulletins.
Sierra Madre Traditional Emergency Horn
We've re-activated the historic "fire horn." If you hear the horn blast three times, it means that important safety information is being broadcast on 1630-AM.
1630-AM is best received on a car radio. Set one of your car radio's "station preset" buttons to 1630-AM, and tune in as you drive through town. You can also hear it on any radio in your home or on a portable radio. Keep a battery-operated radio in your "emergency kit," and put a sticker on it so you'll remember where to tune in an emergency.
This local radio station will be an important source of news and information during an emergency. Even if your electricity, cable TV, internet, cell phone, or regular telephone fails, 1630-AM will be on the air providing you with the information you need.
AM can be heard in all of Sierra Madre, and in many surrounding areas of Pasadena, Arcadia, and Monrovia. Any radio can be used, although it's best received on a car radio. When listening on an indoor radio, it may be necessary to rotate the radio until the signal is clear with a minimum of noise. In some cases, moving the radio so it's near a window will improve reception. Static and noise on indoor radios is usually caused by other electrical devices. Light dimmers, computers, and TVs are the most common sources of static and noise. Moving the radio away from these devices will often improve reception. If possible, turn off lights that are controlled with a dimmer.
Because the Sierra Madre Canyon area is at high risk from fire, flood, mudslides, etc., every effort has been made to ensure adequate reception in this area. The canyon's unique location (on a hillside) may reduce the signal strength in some locations, and the abundance of older electric power lines in the canyon may cause high static levels in this area. Listeners in the canyon should still be able to receive the station on a car radio, and also on an in-door radio by following the suggestions described above. Reception is also affected by the seasons: it will usually be better in the winter than in the summer.
In the event of a fire, mudslide, earthquake, etc. the radio station will be operated in a special "Emergency Mode" which will improve coverage in all areas and especially in the canyon.
To have your community event announced on 1630 AM, or to be a volunteer announcer for the station, send an e-mail to [email protected].
Types of information that might be broadcast
Brush fire warnings

Mud slides

Evacuation advisories

Flooding

Police actions

Shelter locations

Emergency road clearances

Medical aid locations

Water contamination

Emergency water supply

Air contamination

Gas leaks

Sandbag distribution center

Call for specialist
In order to ensure the reliability of the historic "fire horn," it is necessary to test it every evening at 5 p.m. 
Many Thanks!
The City of Sierra Madre, the Sierra Madre Kiwanis Club, and the Sierra Madre Fire Safe Council offer their sincere thanks to all individuals and organizations who were a part of this effort..
While it is not possible to list all of you who contributed to or otherwise supported the project, we want you to know that your efforts have resulted in a system that will greatly enhance the safety and security of all of our residents.